With the introduction of a new era under Davido Music Worldwide (DMW) comes Morravey, an extraordinary talent who delivers her highly anticipated debut EP, "Ravi". Given her journey into the music scene, Daniella Ibinabo Daniel aka Morravey has gone from making covers to becoming a rising star offering a fresh look into the wave of Afropop. Her debut into the scene was stamped with the release of Davido's album"Timeless" off the single, "In the Garden" where she graced listeners with her melodious vocals. In this interview, Morravey shows that she has no intentions of stopping any time soon as the Port Harcourt native takes me on a journey with the release of "Ravi" and her mission to take the industry by storm.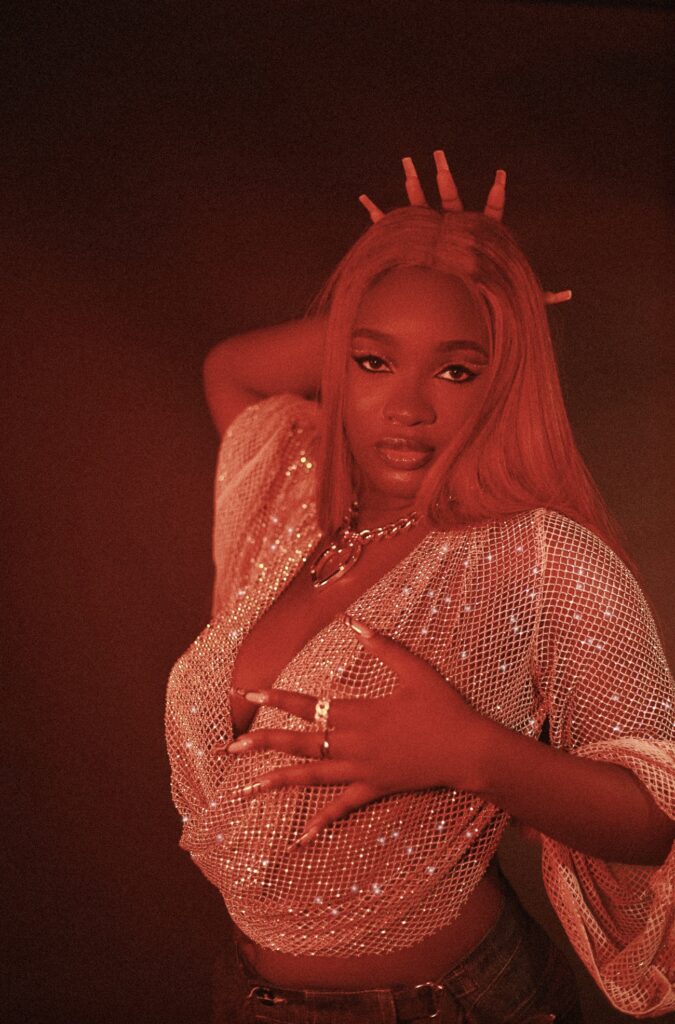 ALSO READ: Five Things We Loved About Spotify's Afrobeats Celebration
Congratulations on your latest EP! Can you tell me the inspiration behind the project and its title?
Starting with "What is love", I wrote it after I had watched a movie. The concept was based on heartbreak. I was able to relate it back to reality. These days, love is not what we used to read in books or movies. Everyone has their own rules and regulations around love. This is how heartbreak occurs. I was so inspired by this and able to creatively make something out of it.
"High Again" is just vibes. Basically, how I am living my best life and my quest to be on top for a very long time. I also see it as not taking any hate personally. It's all about positivity.
"Condo" is very Port Harcourt vibration which is also about vibes. In PH, there is this belief that we go by where everyone is a king in their own circle or surroundings. It's all about me owning my space and being a king in it.
"My Baby" is a love song or can be described as a wedding song. "My Baby" is a love song praising my love.
"Magician" is my story and the journey of how I was writing covers and never stopped writing them. Now that I have dropped my EP, it's a tale of making it big and seeing myself on billboards. It also touches on my wonderful support system which you can hear in Davido's feature. It is the story before, the story now and after. This is my prophecy.
Can you share a bit about the creative process behind the songs on "Ravi"? How do you approach songwriting and production?
I am a very spiritual person. I usually pray to God about my creativity. First, I select beats I love alongside my manager and make melodies from those beats. I am an overthinker and write a lot of notes that I explore later before I start recording. This is how we come together to create that masterpiece.
Are there any particular artists or genres that have influenced your music, especially for this project?
(Laughs) Davido! I listen to a lot of other people. But being in 30BG, Davido has influenced me. I also still get inspiration from every genre, from African music to pop sounds. Anything you can mention.
ALSO READ: Afrobeats Cannot Be the Antagonist In Its Own Story
What challenges did you face while working on "Ravi" and how did you overcome them?
There was a time I had creative block but we used the time to venture into other stuff. There weren't really any problems. I had the team and huge support which made the process easygoing.
ALSO READ: 5 Nigerian Music Producers That Have Revolutionized The Soundscape
Do you have any favourite tracks from the EP, and if so, could you explain why they stand out to you?
My favourite track usually changes every day depending on the mood I wake up.
Okay, you have to tell me the mood then, what mood do we have for "Ravi" today?
Today is "My Baby". I'm feeling happy vibes (Laughs).
What do you hope your listeners will take away from your music, especially from this latest release?
"Ravi" is versatile. I am different and versatile.
What was your initial reaction when you found out you were going to be signed under such a well-established artist like Davido?
At first, I was shocked. It felt like a miracle as I could not believe it was happening. I am grateful for the love and support. They make you feel like family.
How has being signed to Davido's label impacted your career and the direction of your music?
It has been a wonderful experience. Davido goes all the way out to ensure a sort of father-daughter relationship is built. Support is genuine. He looks into the future and builds longevity for you.
Port Harcourt is known for its vibrant music scene. How has your background and upbringing influenced your music and artistic style?
I am really grateful to God for putting me in a place such as Port Harcourt where we have a variety of artists like "Burna Boy" Omah Lay," "Timaya" to name a few. Port Harcourt has different cultures and tribes. This influences our different styles which definitely built me. The confidence that exudes from that place is indescribable. Hardworking and creativity are ingrained in us. My parents listen to different kinds of music which has greatly influenced my music style.
As an upcoming artist, what are your future plans and goals within the music industry?
It is only going to get bigger and better. This is just the beginning. I would not stop giving this voice. I am going to give melodies which will touch lives and hearts. My goal is to make people happy and put you in your feelings. It is never going to finish.